2002 Trip through France. July

13Mar2012 I may have screwed this up. The pictures were very small so I enlarged them. Unfortunately they aren't as sharp as they should be. I may set them back to a smaller size. I'm not happy about this.


Looks like Deb is doing the laundry list of places we visited so I'll just write a long note about my experiences. The tour was basically a loop around France.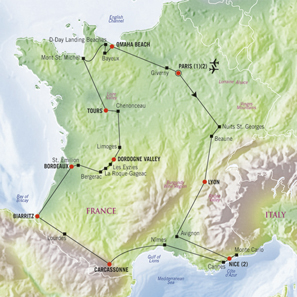 After a long airplane ride, actually pretty comfortable because we were sitting at a bulkhead so had lots of leg room, we landed at Charles DeGaulle airport near Paris - a big, old, noisy, crowded place. Nobody was there to greet us. After asking around we decided to just sit tight and see what developed. Pretty soon a little old guy came along saying "Imerson? Imerson?". We're on our way for our 12 day tour of France.
The hotel was nice and quite close to the Eiffel Tower and close to the Seine river - cool. Deb and I hiked around our hotel area to get a feeling of our Paris neighborhood. Quite interesting. Whenever we go someplace it's like the twilight zone, there are cars, food, phones and etc. The same as home, only different.
The group was interesting. Somewhat older then previous groups, only two teenagers. Most people were seasoned travelers. Several from Australia and New Zealand. They were taking several tours. I guess if you come that far you have to make the best of it.
We did a quick tour of Paris that evening and dinner at a place that looked out on Notre Dame de Paris. Wow! The hotel was quite nice.
The next day we hit the road on our large tour bus. I've ordered a bus seat at work because my ass is now bus seat shaped. I'll try not to comment on it, but we spent a LOT of time on the bus.
The countryside reminded me of Michigan. Lot's of farms and low rolling hills. The difference is the farm houses look different and there are lots of sunflower fields. We stopped in the quaint little town of Beaune (pronounced bone) for lunch. I had my first baguette sandwich with Deb, Susan and Chris from San Jose. Wow! Fantastic. It's the same sandwich I had several times in several places - ham, cheese and "salad". I finally learned it's best to ask for some spicy mustard on them. Delicious! The baguettes and bread in France are fantastic, always fresh with that delicious crunchy crust and so sweet! A nice little city. (Beaune extra)
We hit a French winery in the Burgundy region. The tour was through an old cave . The wine didn't thrill me.
Then on to Lyon. Lyon has a classic cathedral and an interesting square to walk around. Dinner was upstairs. Here's an interesting toilet.

Next day, on to Nice with a lunch stop in Avignon. We toured the papal palace where the popes lived for a while. Quite impressive. I got a hoot out of a kid dressed as a guard, I guess. I asked him about his ancient glasses and he laughed. Here is Debbie shopping.
Before getting to our hotel in Nice we swung by Monaco. We visited the big Monte Carlo casino. We went to a nearby casino and lost about 40E playing craps and slots. There was a quite an impressive sculpture garden we walked around. Then back to Nice, dinner and then to our hotel. Back at the hotel after dinner we went up to the bar on the top of the hotel and had a drink with a fantastic view. We called a couple other couples and had a great time up there.
We stayed in Nice the next night too. During the day we took a trip to St. Paul DeVence, a very quaint little hill town. It's amazing to me that people are still living in these places as they have for hundreds and hundreds of years. Here we are having coffee.
Then back to Nice and a tour up up up into the hills above Nice. Saw one of Elton John's houses and where Tina Turner lives. We visited a perfumery, which was much smaller then I imagined. Then lunch at a nice place under a large awning, all the wine you could drink and I drank my share and more. Very nice. Back to Nice. We walked the beach and noted a few topless bathers, walked through the "old town" which is mostly huge outdoor restaurants. Had a Guinness at a real authentic Irish pub with a guy from Wales serving. We called Ray and Ann to go back to the old town to have dinner. We ate at a table in an alleyway. So romantic!
Next day off we went. We drove through Cannes. We stopped at Arles for lunch and a tour where VanGogh did some paintings. There is an ancient Roman arena here that is still in regular use.
Back on the bus for a huge long ride to Carcassonne. It's a fantastic restored double walled city. The tour director said it's too bad they put up pointy roofs instead of flat turrets like the original. The restoration was completed in 1852 - before the US Civil War! I could ramble on about this place ...
The hotel was a short walk down the hill from the old city. We had dinner with Bob, Susan and the sisters Pam and Diana.
Next day away we go toward Biarritz. As we passed through Toulouse it was pointed out that there was an explosion in a factory on Sept 11th. Many buildings for about a mile radius were destroyed or damaged extensively. Apparently no connection.
We stopped at Lourdes. This was surprisingly touching. We got our bottle of magic Lourdes water and joined the huge line to the grotto. While standing there a big long line of people in wheel chairs and hospital beds took cuts! Is this fair? I guess so. As we crept forward some people tried to cut around us. In fact they were nuns!(?) Finally we got to the grotto. It was just a sort of inset in the rock. We paid our respects then we took a look at all the candles people had bought and lighted. It looked like a city barbecue going on, with all the smoke. Various size candles were sold from vending machines. We were directed to a lunch place by a black lady from Detroit who is living there and heard us discussing lunch. She directed us to a place. She spoke perfect French. Lunch was great, including a tasty raspberry tort . The French know their pastries. (Lourdes extra)
We didn't stay in Biarritz proper. It was Bastille day so some of the group took a taxi in and watched the fireworks. We didn't go. I did hike out to the local town for an ATM and picked up a couple Heinekens.
Biarritz is on the Atlantic Ocean and has a beach. There is at least one large casino. Basically they dropped us off the next morning for a quick tour. Deb and I had an interesting time in a pharmacy trying to communicate. We had a coffee with Nick and Maryann. Then on toward Bordeaux.
Bordeaux was under construction. We grabbed a sandwich, the best one of the whole trip, from a hole in the wall place with John and Eileen then hiked over to see the huge fountain. Perhaps the most impressive I've ever seen. We took an optional tour of the Bordeaux country and stopped at a nice chateau/winery for a taste. I was never once knocked over by any French wines. I guess I'm too cheap to buy the good stuff.
On our way the next day we stopped at another hill town, Saint-Emilion. Quaint as usual. We were a bit early. This is where I figured out what they were saying when I left a store - "vau". It's au revoir as a single syllable. *******************
Today we traveled through the Dorgone valley. There are caves carved in the cliffs. This is where the early cave paintings were found. We had lunch here. I had a ham and cheese crepe with a fried egg on top. I understand there are many castles here but we didn't see many. While others took a trip to see the cave reproduction we were dropped in a small town where we had a Belgian beer with Susan and Bob, and Phil and Olga.
We stayed in the small town of Anatole in the Dordogne valley. Our hotel room had structural beams in it. Neat. The hotel was first class. We had a very nice dinner here. Either we gave the waiter problems or he was giving us problems. Anyway, an experience to savor B-)
The next day we stopped at Limoges - the place where the porcelain is made. Turns out there are apparently several unrelated Limoges factories, they are like a collective. They also make Haviland china here. The show room was sort of disappointing though there were bargains to be had.
Next stop Chateau de Chenonceau in the Loire valley. A royal get away where the king of France kept his mistress. Later Catherine d'Medici kicked her out and made it her own. A very beautiful and impressive place. I'd like to spend my summers here. (Chateau extra)
We stayed in Tours. I don't remember a single thing about Tours.
Then through LeMans and on to Mont St. Michel. Mont St. Michel is one of those places you immediately recognize from history books. It's a fantastically beautiful monastary built on a rock in a bay with very high tides and treacherous quicksand protecting it. This was one of the great sights on the trip.
Then on through the back country (mostly lost) to St. Lo and to a big D-day memorial. There are six large memorial grave sites around this area. We visited the American graveyard and memorial . Very impressive with something like 10,000 markers . We looked at the landing beaches and watched the people swimming and sun bathing around the left over artifacts from the landing.
On to Bayeux to view a 900 year old tapestry. I thought it was going to be some hanging rug things, but nope. It was sort of needlework on cloth about 230 ft long and about 2 ft high. It has a cartoon story of the defeat of Harold, the king of England at the battle of Hastings in 1066. Fairly interesting. We bought some interesting wine in an interesting little store here. Then finally to our hotel!
Next day we are on our way back to Paris. First a stop at the Giverny garden where Claude Monet had his house and painted. Heck, it was so beautiful here I could be famous for painting it. (Giverny extra)
Back to Paris where we connected up with a guide and saw the Eiffel tower. Suprisingly impressive. After seeing pictures all my life I wasn't prepared for its scale. It's huge and beautiful. It dominates the Paris skyline. We went up to the second level and took pictures. Quite an interesting elevator ride. We then did Notre Dame . The crowds were stifling. The building was ok. I needed more time to see it. (NotreDame extra)
The hotel was very very nice but a bit far away from the action.
We then got cleaned up and prepared to go to the Moulin Rouge. It was great! The guide books say to not go but I understand the show has changed since they were written. We ate dinner, drank wine and watched a show. The show had lots of topless girls, loud music and some circus acts. Very entertaining. Worth the $140 each to go.
Next day we did the Louvre (pronounced louv-ra not loov). Of course very impressive. The Mona Lisa isn't small like I've been told, it's about 2 ft by 3 ft. Pretty good size I'd say. We saw many famous paintings and sculpture. I certainly am not giving it its due here. (Louvre extra)
Then up to Montmartre where many famous artist's lived and painted. Plaster of Paris was mined here. I'm sure the place I sat for lunch had been sat in by Picasso, Dali and others. Here is Deb. We decided to skip the tour of Versailles and go to the d'Orsay museum.
To get to the d'Orsay we had to take the Metro (subway) system. With some advice from our guide we and Diana and Pam made it to our stop. We were a bit confused as to which exit to take so we were looking at maps while everybody else exited. As we were moving toward the stair I noticed three young guys moving our way. I started saying "hay, hay, hay" in getting ready to take action when their leader signaled them to get back, perhaps pickpockets.
The d'Orsay museum was fantastic! Every place you look there is a work of art you recognize. It looked like you could touch them, there seemed to be few guards. The place is an old railroad station and seems to be a perfect place to display huge statues . As I was taking pictures I ran out of memory. Damn, I thought I had a 64 MB but it was only 4MB. That was the end of my picture taking. (d'Orsey extra)
The trip back to our hotel on the Metro was interesting, taut and thankfully uneventful. We had to walk about 5 blocks to our hotel.
This evening we took a boat ride on the Seine River and a farewell dinner. Bob and Susan wanted to say up late and drink at the hotel but we were facing a long trip the next day.
The next day was good bye and a long desperate flight back over 24 hours. We got home after 10pm and I was up and at work at 8 the next morning. Whew!
My usual comments -
- The highlight was Paris.
- Be sure you take enough memory or film for your camera.
- Eat lots of baguettes and baguette sandwiches - ask for mustard.
- Breakfasts were pretty good considering the French don't eat breakfast.
- The tour was good. I think France looks doable on your own. I couldn't have driven as much as we did on this trip but the roads look good. In the countryside they are marked by numbers.
- No concession to English speakers. Every other place I've been there have been signs and information in more then one language including English. Not here.
- Despite what you may hear I found French people to be helpful and nice.
- Would I do it again? Maybe. Would I suggest you do it? Yup.
- You can steal whatever pictures you want from me. But if you order prints from Shutterfly please mention our name - Debbie Imerson / dimerson@pacbell.net
- At some point we stopped for lunch at a supermarket. Good food and quite an amazing place, like a big Costco here. I bought a bottle of wine.
- The truck stops were usually interesting. I often had a cup of coffee a la American - a bit of hot water in the rather strong coffee.
- Trafalgar does an A1 job. Everything was top class. My only complaint was we didn't get the sheet that tells about the optional tours and where to be picked up at the airport.
- We watched a lot of the Tour de France on tv. It was live, then repeated in German and then extensive highlights in English. Sometimes on more then one channel.
- I was never actually knocked over by the food. It was good but... I think if we'd been on our own we might of found better. We also tended to eat unfashionably early.
- I think I enjoyed the history in Italy more then France. Interesting French history goes back about 300 years, Italian about 600 plus the Romans.