2015 August Alaska Cruise


This is our itinerary -

Aug 28 Friday - Flew from San Jose to Seattle. Stayed overnight.

Aug 29 Saturday - Met Peggy. Boarded the ship

Aug 30 Sunday - At sea

Aug 31 Monday - Juneau. Whale tour. Pinnacle dinner.

Sept 1 Tuesday - Glacier Bay

Sept 2 Wednesday - Sitka Alaska

Sept 3 Thursday - Ketchikan Alaska

Sept 4 Friday - Victoria, British Columbia

Sept 5 Saturday - Seattle. Fly home.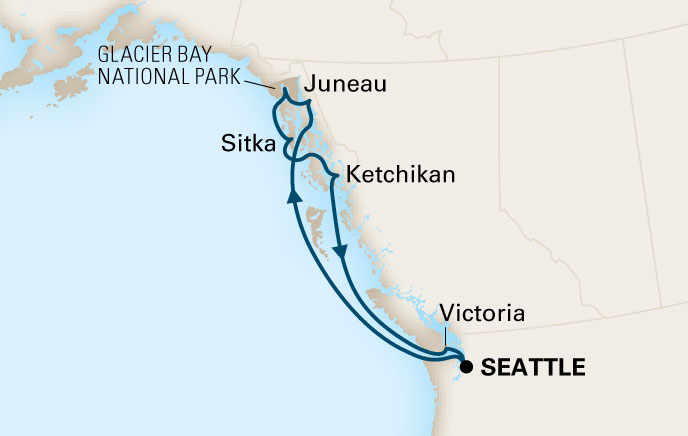 Aug 28 - Called Pratap our taxi guy for a ride to the San Jose airport. We flew first class to Seattle. We took a taxi to our hotel, The Hyatt House. We had been upgraded to a suite with a kitchen. Right out the window and across the street was the Seattle Space Needle. Amazing. I could have thrown a rock and hit it.

We hiked out for a drink and a bite. There was a nearby sports bar with some friendly folks. We walked over to the Space Needle and found we could go directly up for dinner. I knew it was going to be expensive, and it was. Very nice with, of course, spectacular views of the city. Afterward we walked toward where we could hear music and listened to a band giving a concert in a park. Not crowded because rain was expected. We missed the Chihuly museum.

Back to the hotel and bed.

Aug 29 - Peggy showed up. We had free breakfast at our hotel. I haven't been feeling well for a few days. Maybe related to our rather tough diet before the trip. Also perhaps related to an apparent allergy I may have, or even the poison oak I've been suffering with. Oh well.

Took a shuttle to the ship. No problem. We were dropped near the tent where Peg picked up her scooter. Off we went.

Getting on board was very little trouble thanks to Peg being on the scooter. We ate a leisurely lunch while waiting for our room to be ready. We had lunch with an employee of HAL who was taking her first cruise to see what it's like. Our ship is the Westerdam.

Finally into our room and ready to start the cruise. Deb had ordered roses, champagne and some gin for our room. Also balloons on our door. Interestingly enough we have the cabin next door to the cabin we had on our previous cruise to Rome - 8022. The ship pulled out about 4pm. We watched and enjoyed happy hour from the Crow's Nest - the bar at level 10 forward.

Apparently we went to a wine and food paring - crab and Riesling in the Adagio bar area.

Went to the martini tasting. We'd had so much fun on a previous cruise with the martini group so we joined in. The bartenders entertained us with jokes and stories while serving us four different martini's. We shared them. The group was fun.

We had dinner. We skipped the show, which was just an intro to the various entertainment we would have available. We went to the piano bar. They guy playing is the best we've heard. We lost a few bucks playing craps.

Deb says this was a formal night.

Is this the night of rough waters? One night it was very rough. At least it was at night so we didn't have to walk around the ship. It was the roughest we have ever experienced. The captain mentioned the possibility of eighteen foot waves. Lots of creaking and noise as well as bouncing around in bed. Some people said they fell out of bed. Many were ill. It calmed down by morning.

Aug 30 - We had Peg's breakfast delivered to our room so we could eat together. I don't recall much of what we did this day. Lunch of course. We did go to a tea where we ate too many cupcakes and other goodies. We hit the happy hour and at some point, I think today, we saw some Spinner Dolphins frolicking around our ship. Deb spotted them first. I got a pretty good movie of them. We saw dozens of them.

Deb and I met some guys in the Crow's Nest at happy hour. We then proceeded to the Martini tasting with Peggy.

A very nice lamb chop dinner for me. Of course it was delicious. We went to a show with a bunch of, supposedly, impromptu drums. I even had a pan to beat on. Fun. Then again Deb says we went to the piano bar and then did some gambling at the craps table.

Aug 31 - We woke up and found ourselves in Juneau. It's overcast and rainy as expected. Today we are off to a whale trip and a trip to Mendenhall Glacier. We got front spots inside the boat. Off we went. After quite a while we did spot some whales. Not that impressive to me. We did get a few pictures and a saw some sea lions.

When we got back to take the bus to go to the Mendenhall Glacier it looked like things were running quite late. We have paid extra for a fancy dinner at the Pinnacle dining area. What to do? We explained our problem to the bus driver and he drove us back to the ship. I was quite surprised at this. Very nice. We did make our very nice dinner. Yum. Not sure what we did this evening.

Deb says this was a formal night. Pictures and dressy people.

Sept 1 - After a nice breakfast we were on our way to Glacier Bay. Very beautiful traveling up the bay. We finally got to Margerie glacier (extras). We'd been there before in 2011 and saw some spectacular calving (Old Movie). Not much happened on this visit however. It is beautiful and we could hear cracking and saw a few small pieces fall off. We had hoped for more. The trip back was also very beautiful. Deb claims to have seen mountain goats.

We played "food trivia" in the Adagio bar area with Pam and Mary Kay. Our team was the Cracker Jacks. We didn't win but came pretty close.

We had blue martini's during happy hour in the Crow's Nest.

Another martini tasting.

Dinner was fun. We met Ann and Dick. A fun intelligent older couple about my age. We visited with them several times and enjoyed their company.

Not sure what we did later. I think we watched a movie with Peggy - "The Last Samurai" with Tom Cruise.

Sept 2 - In the morning we found ourselves in Sitka. Our room faces away from the town. After breakfast we tendered in. Peg decided to not face the problem of getting on and off the tender. We walked around a bit and did a little shopping. Deb bought a salmon charm for the bracelet. Quite nice. I need a picture of it.

We tendered back to the ship.

We had lunch on deck. I had my cherished hot dog - not as good as I remembered it. Deb had salmon from the buffet. We hiked around the top of the ship to see what was there - just the usual stuff (extras).

During happy hour in the Crow's Nest we spotted some whales. We had a couple drinks with Ann and Dick.

Once again we joined the martini tasting.

We had dinner in the Canaloni Italian Restaurant ($10 extra each). We met a nice couple there. Quite nice but unfortunately my pork dish was not edible.

Not sure what we did this evening. Deb says it was a formal night. We may have gone and seen the juggler, who was quite good.

BTW we were stupid. One of the things we wanted to see is a National Park with a bunch of totem poles. We'd seen in before and really wanted to see it again. It wasn't until we were back on the ship before we realized it was here in Sitka. We could see the ranger building from the ship. Duh.

Sept 3 - We woke up in Ketchikan. Peg could get off here. We puttered around the town shopping and people watching. We went to the old part with the river running through it and visited the quaint shops. Lots of fun. (extras) No problem for Peg. Quite scenic leaving port.

Back to the ship. They had a buffet salmon feed. Deb had salmon, Peg had a hotdog and I had a hamburger. We ate near the pool.

We went to hear the ships captain give a talk and answer questions. We then went to tea.

We went to happy hour and attempted to play trivia. We were back in a corner and the announcer was not too good.

I don't recall if there was another martini tasting. I had my best meal on this night - a veal cutlet.

Sept 4 - Today at sea approaching Victoria BC. We had lunch with Ann and Dick.

I watched with interest as the ship was parked. We also watched a Princess ship back into the slip. Quite interesting.

Apparently a lot of people got off the ship because dinner was not crowed or busy. We had a leisurely dinner. Deb has been collecting drink glasses. No show tonight. Found a monkey hanging in our room.

We watched "Water for Elephants" in our room with Peggy. This was the night Pegs scooter disappeared. OMG. After much fooling around late at night we found it had been taken by the ship maintenance guys for safety reasons. Hmm. Peg got it back the next morning - with much consternation. We're a little smarter now.

Deb spent some time packing.

Sept 5 - Found ourselves in Seattle. We didn't rush off the ship but still arrived at the airport an hour or more earlier then planned. We escorted Peg to her airline. We had a sort of breakfast. We waited several hours for our flight. Once again first class and very nice. Here are some extra shots from the plane. Pratap picked us up at the San Jose airport and took us home.

The very next day, Sept 6th, Deb ran a 5K race and won her age group - 60+. As a 65 year old she beat those 60 year old whipper snappers.

Comments -

A pretty good cruise. Not the best of all time but pretty much as expected. Guess we didn't meet enough wild and crazy people. Also we are rather used to longer cruises so that might have been a factor.

Traveling on Holland America the ships are all similar. This one was built in 2004 and felt a bit dated.

It dawned on me that being on these ships is sort of like going to the same resort. Everything is named the same and in the same location on each ship. The decor is different and some things changed but not much.

Taxi's seemed rather expensive.